Caroline Schiff photographed by Gabby Jones at Gage & Tollner
What do you do in the food world and what do you love about it?
I'm the Pastry Chef at Gage & Tollner in Brooklyn, NY. I love so many aspects of what I do that it's tricky to give a concise answer, but here goes. Being a chef fulfills me in every way- creatively and emotionally; it's so much more than a career in my mind. When I'm in the kitchen, I feel whole and confident. Food is my love language, even if I'm just cooking for myself, and I stand by the fact that there's nothing more generous than the act of making a meal or baked good for someone. Except maybe giving someone a kidney. That's probably the MOST generous. But I could only do that once. I can cook for those that I love everyday, and show my greater community love through my pastry at the restaurant. It all comes down to nurturing and making people feel loved.

How do you resist the patriarchy?
Making sure I have a seat a the table so to speak, and using my voice; choosing to operate in spaces that I know will be supportive and avoiding those that won't. Saying no. That's a big one. Women feeling like they have to be people-pleasers is a big part of the patriarchy, so setting boundaries and saying no is not "being difficult", it's a power move.
It takes a lot of trial and error and re-calibrating to reach success. What has been your favorite failure along the way?
Oh so many fails. Big and small. I had a day recently where every single test and troubleshooting attempt just bombed so epically. So I cried in the walk-in for maybe 15 minutes or so. It felt good to sob it out, and then the next day I was able to work out all those little kinks. To share an even bigger fail, I wrote a cookbook proposal that I worked hard on, for a long time. I workshopped it with my agent and put my heart into each recipe. It was deeply personal and special, and then it got a flat out "no" from almost every editor it got sent to because I wasn't "famous enough", didn't have "enough instagram followers" and "people don't really like cake that much". Worse than hearing "no" was the radio silence from the ones who just never replied at all. But after that experience, and everything that I've been working on recently, I've come to realize that I can revisit it, rework it, write about so many other things, and maybe try again someday. While the failure of that book proposal stung pretty bad, it helped me recognize my other adjacent successes and hone in on them. And isn't that the best thing about failure? The fact that it helps us quantify our success?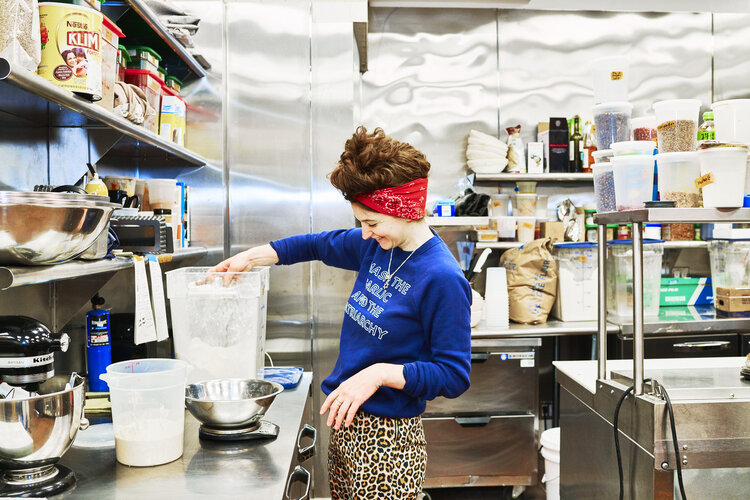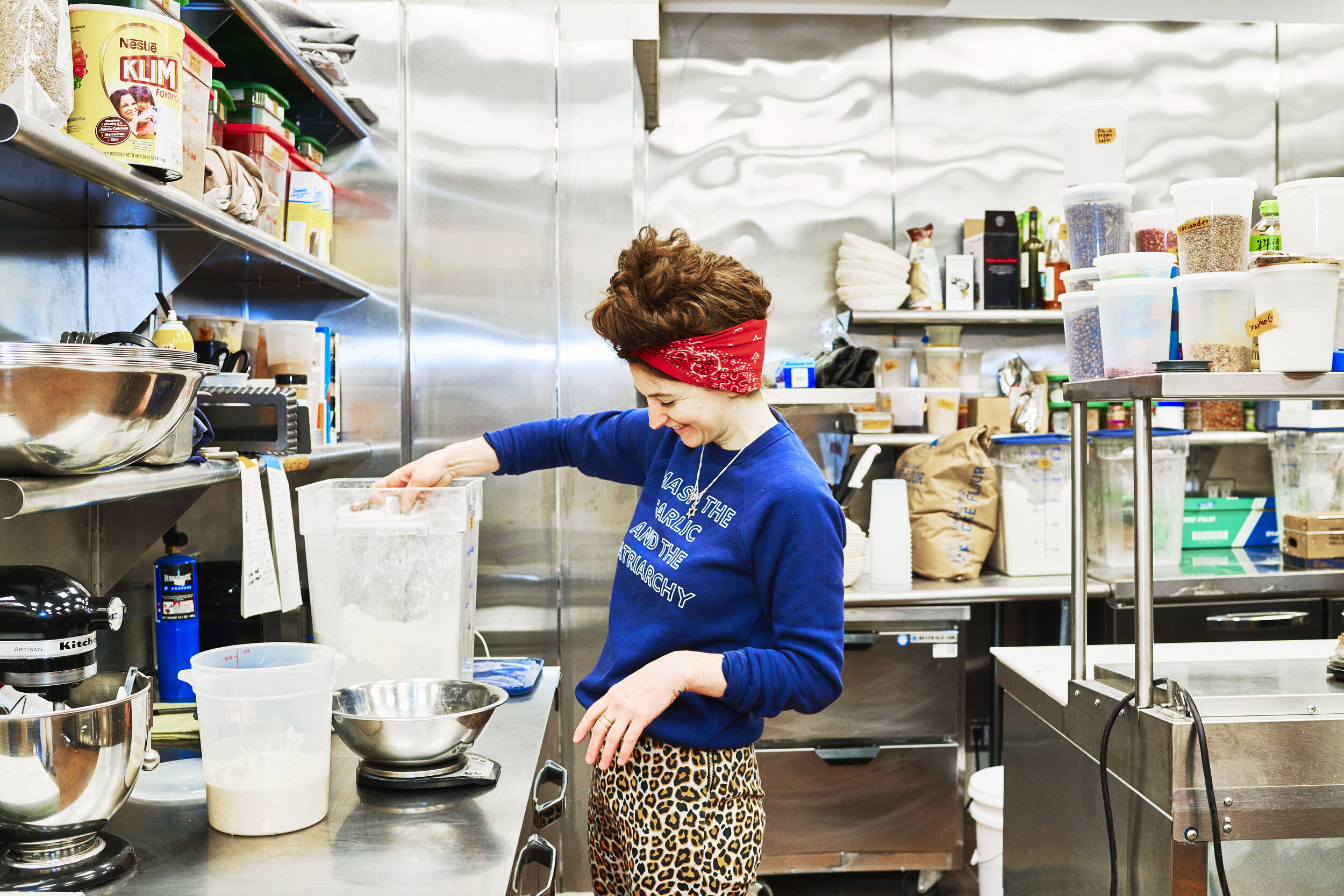 You make pastry look so easy, where would you recommend someone start if they are looking to get into baking and pastry?
I've been making dessert professionally for a decade, and working in kitchens even longer than that, so rest assured, it took me years to get into a groove and I still find some things incredibly challenging. If you're just starting out, pick up a book that really entices you and just go for it. The stakes are low- I always tell people this. What's the worst that happens? It doesn't turn out the way you hoped and you try it again. I still tell myself that when working on a new recipe or dish. Get a few basics under your belt and it'll open so many doors. Once you master a perfect pie dough you can make so many variations- warm apple, summer peach, sour cherry, mixed plum...get it? One basic great recipe gets you so far and will start to build your confidence. Then just start to build that basic repertoire.
You recently started a new gig as the Pastry Chef at Gage and Tollner, what has it been like being part of the opening team and what excites you most about this opportunity?
Gage & Tollner has been a dream project and one I feel like I've been waiting for my entire career. The team is supportive, excited and encouraging on every level. I'm getting to work alongside my mentor, Chef Sohui Kim and I feel confident and challenged in such a positive way. The story and history of G&T speaks to me. I love anything old New York- my family has been here for generations and I'm very connected to my community. In terms of the food, classic desserts are my favorite- anyone who's been to my apartment will tell you it's filled with old cookbooks and I love getting inspired by them. The Gage & Tollner dessert menu is derived from all these classic things I adore and crave personally- I hope guests will too! And Edna Lewis cooked there! She was prolific in her career, and her recipes and writing have been such an inspiration to all of us. Where I am now is the most fulfilled I've been as a chef. If you come by, please order dessert and say hello!
You are a co-founder of the Empower through Flour initiative, can you talk about what that is and why it is important to you?
My Pastry Chef bestie/ inspiration/ sister Angela Garbacz founded the initiative in 2018 and I was truly honored when she asked me to come on as a co-founder. Last year Empower Through Flour raised $10k by rallying female identifying chefs around the country and asking each one to sell a delicious item and donate a portion of the proceeds to supporting women and girls. It's that simple and that epic. This year we're partnering with GirlUP, a United Nations Foundation, which supports the UN's efforts to give girls in developing countries equal access to education, healthcare and economic opportunities, as well as working towards a life free of violence. These are basic human rights that unfortunately have become a privilege, but our chef community has the ability to make a difference. We have to support each other. There is so much power in coming together and providing opportunity is crucial. Head to empowerthroughflour.com for all the details and how you can support. It's so easy (buy and eat dessert)! And this year I'm so excited to announce we have an Etsy shop  where you can order ETF merch! 100% of the proceeds from the totes and tees will go to support GirlUP as well.

What do you think is the most underrated pantry item?
Capers.

What's the best piece of advice you've received from another woman?
Stop apologizing for things you don't have to be sorry for.
PHOTOGRAPHY BY GABBY JONES